As the auto industry has changed over the last decade, so has the customer buying journey.  What may have worked for you prior to these changes may need a makeover.  Customer relationship management platforms, CRMs, are essential tools for keeping up with the ever-growing needs of the subprime customer.  Today, in this guide to CRM, we will learn about what a good CRM should do for you.
Small and mid-size dealerships often struggle with finding the right CRM (and a lot of the times think they do not need one)!
Fact: No matter whether you are a small dealership or part of a national group – customers expect exceptional service, every time.
Due to this, every dealership and financial institution need a CRM, and it is important to find the right CRM for your needs.  This article will discuss what exactly a CRM is and the benefits and key features you should look for.  Review the information here and ask yourself if you are making the most of your CRM and if you do not use a CRM, consider this your guide to get started!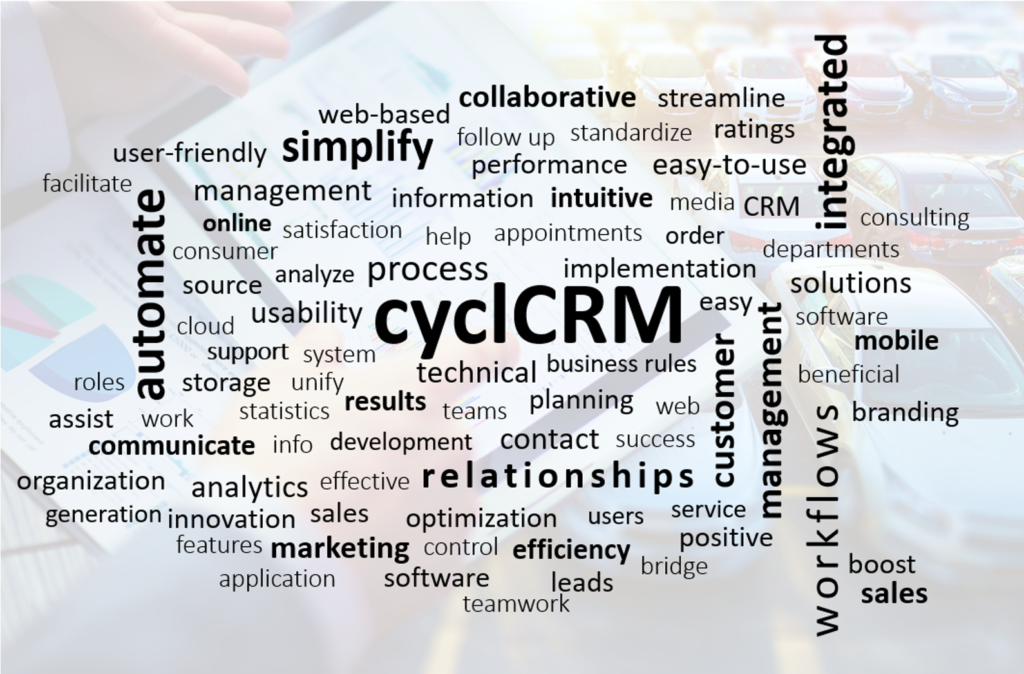 What is CRM?
In this article, we will focus on Automotive CRM.  To be clear, every business uses some sort of customer relationship management – from your dry cleaner to your phone provider and even your favorite clothing store!  CRM, at its most basic definition, is a way to keep track of and build relationships with clientele.
Automotive CRM combines customer service, sales, and marketing solutions into one tool to handle your customer buying journey.
Additionally, an effective CRM will reduce the work your team has to do while simplifying all facets of lead management. There are four major benefits of an automotive CRM:
Lead Management: keep track of leads at each stage of the buying cycle (before and after a sale) from all sources (online, phone, walk-ins, and referrals).
Lead Nurturing and Generation: respond quickly to hot leads as soon as they are looking to buy with automated replies and follow-ups. Build prospect databases using lead capture tools to convert general inquiries, chats, and inventory requests into opportunities.
Improved Communication: omnichannel views of all customer touchpoints allow for better relationship-building with customers and prevent departmental silos (information is available to anyone who needs it).
Transparency & Reporting: follow every deal from beginning to end to optimize your sales process. View metrics on sources to measure highest ROI (return on investment), inform future sales and marketing decisions and keep your team accountable with productivity reports.
A successful CRM builds strong customer relationships which lead to increased purchases, referrals, retention, revenue growth and profits.  Simply put, a CRM will help you make more sales.
How can CRM help me?
Most large dealerships already understand the need for a good CRM.  However, some dealerships either do not see the value or do not think they would benefit from incurring additional cost.  Furthermore, there are some dealerships who do not use all the features they could to see major results!  Here we will discuss some other benefits of CRM.
Organization
Dealers get leads from third-party providers, Facebook, inventory websites, Instagram, calls, online ads, offline ads, and the traditional walk-up.  CRM provides one central location to store and track this information.  Initial touchpoints and follow ups can be reviewed at any time easily.
An additional benefit is the ability to store documents and stips gathered from the customer.  With access to this information, any salesman can pick up right where the last left off.  This makes for a great customer experience and is the first step to building name recognition and increasing customer retention.
Quick Lead Conversion
The automotive industry is largely a numbers game. Both in how many leads your business has coming in and how quickly your sales team can qualify them.  There are many sources that state the first hour (and usually the first 15 minutes!) is essential to successfully capturing a lead.
With a surge in online car shopping, car buyers are more knowledgeable and ready to make purchases quicker while expecting the best service.  CRM notifications and auto-replies ensure contacts are acknowledged timely and no interested party goes unnoticed.   This is essential because if you do not get to a lead, your competitor will!
Automate Processes
Another benefit with using a CRM is the ability to automate repetitive tasks and workflows.  Your sales team can devote more time to working hot leads with automated follow-ups:
After the sale – maintain and build rapport through anniversary texts, birthday emails, requests for referrals, service reminders, etc.…
Stale leads – once a lead has been uncontacted or cold for a period, you can automate check-ins to assess their needs later. This is a great way to mine your existing database without distracting your sales team from new leads.
cyclCRM, the only CRM fully integrated with Deal Pack DMS, goes an extra step, and provides lead scoring which can trigger automatic underwriting decisions.  If an application does not meet your requirements, it is placed into unique workflows while automatic texts or emails are sent with steps they need to take!  The more processes that can be automated, the more time your sales team can focus on selling cars!
Personalize Customer Experiences
Part of providing better customer service and satisfaction comes from engaging customers. CRM creates custom communications and segments your database to reach like prospects/customers.  As an example, which of the following texts would be better received: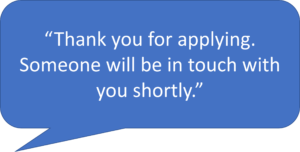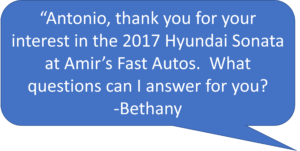 When customers feel we are taking time to learn their needs and receive customized texts like the one on the right (the obvious better message!) rather than canned ones – we start our relationships off strong.  I am 110% more likely to answer the personalized text (in this case asking about the vehicle I want to purchase) than the first text.
This extends beyond prospecting by combining the automations mentioned prior with these customizations.  Reaching out to sold customers at various stages maintains relationships and creates name/brand recognition.  By formulating a campaign schedule for sold customers, you keep your business at the front of their mind.  When their friends ask about recommendations for where to buy their next car – YOUR business will be the first they suggest!
Appointment and Task Management
CRMs keep your team on track from lead inception through all stages of the lead lifecycle.  Daily, weekly, and future appointments and tasks are recorded in one place.  Custom business rules allow for devising the exact workflow needed for each stage of your sales funnel.  Workflows focus your team's energy where it is needed so no follow-ups or information is missed.  Paired with robust reports, managers can review the status of each opportunity as needed and take appropriate action.  This translates to increased productivity and more sales for you.
Mobile and Desktop Optimization
When your CRM is set up to handle new inquiries and follow up with past customers automatically, your salesmen are free to do what they do best – SELL.  Though a lot of car buyers have moved online, there will always be those who prefer the process of coming to the dealership to find their new vehicle.  You need a CRM that can handle your needs whether you are at your desk, on the sales floor or out on the lot.  A CRM that is easily used on all platforms (desktops, laptops, cell phones and tablets) makes all the difference in capturing the data needed to close deals.

DMS/LOS Integration
Updated data management on prospects and customers is streamlined with DMS/LOS integrations.  CRMs typically track sales opportunities while DMS (dealer management software) and LOS (loan origination software) desk and allow for accounting/collections and inventory management.
Deal Pack DMS and cyclCRM are part of a fully integrated solution for subprime dealerships and financial institutions.  The bi-directional communication and transfer of data ensures accuracy and reduces steps needed from all departments.  With credit applications, inventory, sales and collections data and documents available in either system in real-time, your business will see growth like never before.
Communications Management
A critical part of CRM is having an omnichannel view of all communication touchpoints.  This means text, email, and calls in one easy-to-review archive.  Integrated communications tools allow for documentation of every interaction with leads.  Whether you have a small team or multiple working leads, having records of all touchpoints is beneficial.  This also allows transparency and keeps users accountable while providing information for great customer service.  Furthermore, with tools like template building and call scripts, teams can maintain a unified voice when speaking with customers.  This is an additional strategy to build recognition of your brand through consistent customer service.
An extension of this is managing compliance.  Many CRMs have built-in mobile and email verification strategies.  This means leads must consent to communications and we cease contact if they opt-out.  Many also allow for each dealership, as there are unique compliance regulations per state, to accommodate these unique regulations (for example: the ability to text a consumer until they opt out).
Simple Onboarding, Training and Support
The last topic I want to cover in what a CRM should offer is a great training and support program.  Many dealerships have seasoned salespeople who are used to doing things a certain way.  There is often hesitation at learning a new system when one's ways have always worked.  The thing to remember is things could always be better!  Learning a CRM that is simple and intuitive will help change the most seasoned "paper and pen" salesman's mind!!  Paired with effective training and support, there will be no reason your team will not succeed using a good CRM.
With cyclCRM, all these tools and features are available to you right now.  Reach out to learn more about anything you read here or to get a demo if you would like to see how cyclCRM can start helping your business today.