Salespeople are considered the backbone of any independent auto dealer and in today's world finding one and retaining them has become a challenge. Low unemployment has led to employees being able to switch jobs for 'greener pastures' with unprecedented ease and reward. How can you maintain business continuity with such high employee turnover? How do you ensure leads are not forgotten or missed? With cyclCRM, that's how.

Assigning Leads
cyclCRM can automatically assign leads from digital sources through Round Robin. When a new lead comes in, it will automatically be assigned based on user availability of specific teams or departments. If no user is available, they are placed in Unassigned Leads for managers to disperse.
Additionally, business rules can be set to reassign leads that are not being worked in a timely manner.  These can be based on the lead being in one stage of the sales funnel too long, or simply by the lack of salesman activity with the lead. This removes the need for managers to spend so much time on reviewing that leads are being handled properly. cyclCRM can effectively move leads to new salespeople as needed.
In this way, a new lead will not be missed but, what of an existing lead assigned to a salesperson no longer with the company? cyclCRM allows for those leads to be reassigned through Bulk Reassignment. Just because you lose a salesperson does not mean you lose your lead!
Campaigns Rules
Another tool cyclCRM provides, that allows for business continuity while facing employment challenges, is Campaign Rules. Using Campaign Rules, you can send auto-generated correspondence to your leads. For example, a 'Welcome' text to a new lead or a coupon for an oil change emailed to existing lead. By creating simple campaign rules these auto-generated communications will be delivered without having a salesperson.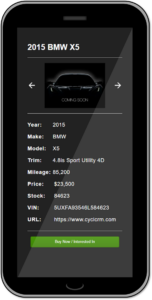 Interviews aren't going well, and you just can't find a qualified salesperson for your dealership. Well, you don't need to find the right salesperson because cyclCRM is that person. With integrated tools like a Credit App and custom Rating Models you can easily setup the metrics your business uses to evaluate a lead. cyclCRM can then generate a custom inventory link of potential vehicles for the Lead that they could purchase. They can purchase a vehicle and even schedule delivery or pickup all without ever needing a salesperson.  Learn more about such tools as Docusign and Digital Loan Jacket that help with an automated process by checking out blogs at dealpack.com
Hiring and retaining the right salespeople is integral to any independent auto dealer. However, current employment challenges in finding the right salesperson does not need to hinder your business. For more information on how cyclCRM can provide solutions to staffing challenges, contact Support at 800-526-5832 or support@abcoa.com